We strive to have a Linux Fair every year at NTLUG.
What is a Linux Fair?
If you've ever been to a major Linux conference in the U.S.A. (e.g. ALS, LinuxExpo, LinuxWorld), then you know that the conferences are large more traditional conference gatherings where exhibitors have outlandishly decorated booths and are mostly looking for potential sales leads. Sure... there are also some very good presentations, some good tutorials, but in the end the primary focus is revenue generation for the companies present. So how is that different from an NTLUG Linux Fair? The biggest difference is probably the size. Instead of thousands of attendees, there us usually just a couple hundred. But the most important difference is that the Linux Fair exhibitors are mostly individual users.


It's not a "professional" conference then?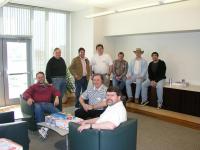 No. Not in the typical "lead generating", "sales pitch", "potential client" way. However, most of the exhibitors are professionals in that they have learned to use Linux to solve real problems. Instead of merely looking at business collateral or standing aways from the booth demonstration hardware, at an NTLUG Linux Fair you can get up close and personal with the user or developer and their exhibit. Occasionally it means you get to see real bugs. And more often than not, you also get to see someone attack and fix the problem on the spot!
Exhibits
What kind of exibits are there?
It can vary from year to year. Typical exibits can be anything from hardware demonstrations: Linux running on somewhat unique configurations; to software demonstrations: Linux doing something different, or in many cases, doing something that you are used to doing inside of another operating system. Some exibitors will be very technical, others will be somewhat new to Linux.
Some specific examples from past Linux Fairs:
Linux on Apple computers (both 68000 and PowerPC).
Cinelerra, a sophisticated audio/video Non Linear Editor.
Mono, .Net applications and development under Linux.
Multi-headed display technologies.
Weather station monitoring.
Linux on Alpha and SPARC.
CrossOver Office (Microsoft Office on Linux).
Running virtual machines.
... and much more
Community
And then there's just the community.... The Linux Fair is a great time for meeting new people and having a fellowship with people using Linux or wanting to know more about it. Pizza and drinks are usually in good supply and door prizes galore!